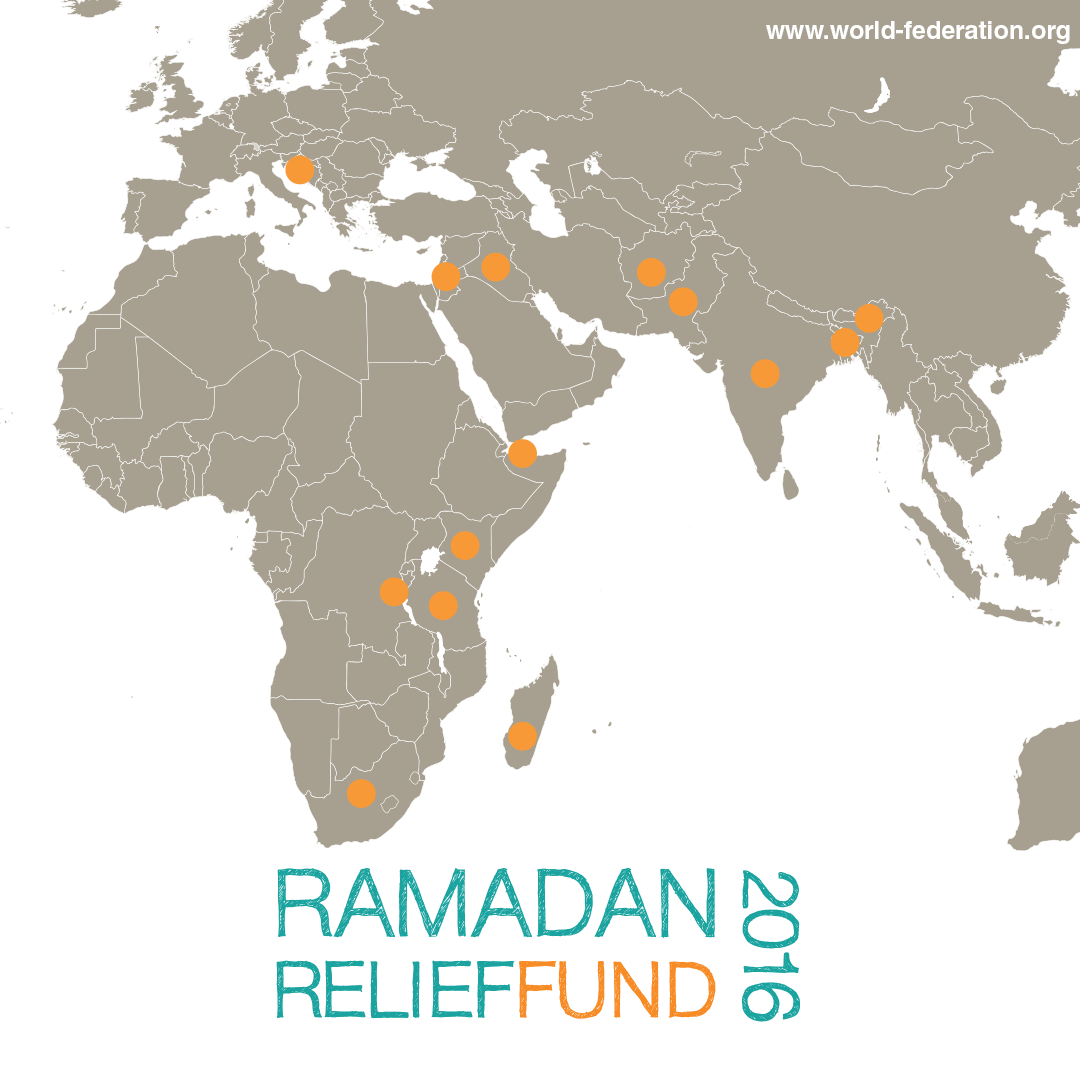 Ramadhan Relief Fund Fact Sheet
What is Ramadhan Relief & who do we help?
The Ramadhan Relief Fund is all about coming together as a global family to ease the hardships of others so that they too can fast and partake in the spiritual journey of the Holy month with ease and comfort. This program provides food rations, community iftaars and sehris, debt relief, cash gifts, medical care and treatment, essential household items and microfinance opportunities to deserving families including, orphans, widows, seniors, refugees and the disabled who are struggling financially and often have no one else to turn to.
Where do your donations go?
Donations to the Ramadhan Relief Fund are sent to our partners after a process of due diligence is complete. This Ramadhan, The World Federation will work with over 21 partnering agencies across 15 countries including Bangladesh, Bosnia, India, Iraq, Kenya, Lebanon, Madagascar, Myanmar, Pakistan, Palestine, South Africa, Syria, Tanzania and Uganda to deliver Ramadhan Relief Fund aid.
What criteria do we follow when allocating donations across different regions?
The World Federation partners with agenices that can demonstrate that they are transparent and accountable for the Ramadhan Relief Fund funds we send them. We ensure that the donations we collect are granted to reputable partners who agree to and have the capacity to comply with UK charity regulations where they are required to provide us with:
A grant application/needs assessment form including a budget (the budget allows us to determine the specific needs of the beneficiaries and the size of the grant to be allocated to them);
A full report including invoices/purchase receipts, cash disbursement forms and photographs showing how and where the funds allocated to them were spent;
Proof of charity/business registration.
When do we start?
In the months leading up to Ramadhan, The World Federation works with each of its partnering agencies to carry out a needs assessment to discern the families who would benefit from our support, the type of assistance they require and the cost of delivering the aid. In Shaban, funds are sent to our partners so they can begin to arrange the purchase, packaging and delivery of food baskets, community iftaars, debt relief and other aid to our beneficiary families. This work is done ahead of time in anticipation of the generosity and support of donors from around the world.
Why does your support matter?
Those in need depend on us – and we depend on you. The success of the Ramadhan Relief Fund depends on the generosity of donors from across the world. It is only with the continuing support from friends like you that we can continue to provide respite to thousands of families during the Holy month of Ramadhan.